BASc in Financial Technology
Admission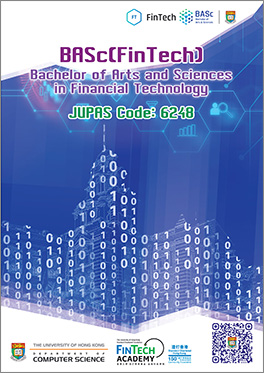 Applicants who wish to apply for admission to the Programme 6248 Bachelor of Arts and Sciences in Financial Technology (BASc(FinTech)) may apply through one of the following schemes, namely JUPAS, Non-JUPAS, International Admissions Scheme and Admission of Undergraduate Students from the Ma inland1, in the same admission year. BASc(FinTech) will begin its initial intake in the 2019/20 academic year, with 20-30 intake places2.
(1) National Joint College Entrance Examination (NJCEE) examinees, HK/Macau/Taiwan NJCEE examinees; and Mainland University students should apply through the scheme "Admission of Undergraduate Students from the Mainland" co-ordinated by the Registry. More information is available at http://www.aal.hku.hk/admissions/mainland/.
(2) As the 2019/20 Academic Year is the start of the 2019-2022 triennium for which UGC-funded programmes are still subject to the Government's and the Legislative Council's approval, the number of student intake places shown in this web page is indicative only and subject to change or confirmation at a later date.
Applicants with outstanding academic performance will be offered the HKU-SCF Scholarship in Financial Technology, each at the value of HK$50,000 and renewable up to HK$200,000, exclusively for students admitted to the BASc(FinTech) programme. This scholarship is supported by the Standard Chartered Hong Kong 150th Anniversary Community Foundation (SCF).
JUPAS Route (JUPAS Code: JS6248)
Applicants who wish to apply for admission, on the strength of their Hong Kong Diploma of Secondary Education (HKDSE) examination results, should submit their application via the Joint University Programmes Admissions System (JUPAS) admissions scheme. The entrance requirements for admission to HKU Engineering are as follows:
A. Level 4 or above in English Language3;
B. Level 3 or above in Chinese Language;
C. Level 3 or above in Mathematics4;
D. Level 2 or above in Liberal Studies; and
E. Level 3 or above in two Elective Subjects.
(3) Candidates with level 4 in English Language, if admitted, will be required to take 6 additional credits in Core University English to complete their degree studies.
(4) Level 3 in Extended Module 1 or 2 of Mathematics is preferred but not required.
Non-JUPAS / International Admissions Route
Applicants with other local/ international/ national qualifications will be considered on an individual merit basis. Examples of some common qualifications are:
• GCE A-Level
• International Baccalaureate (IB)
• All India Senior School Certificate Examination
• STPM/UEC under the Malaysian examination system
• Advanced Placement (AP) Test under the US system
• Associate Degree/Higher Diploma
Candidates applying for admission on the strengths of other qualifications should submit their applications through HKU's Non-JUPAS Admissions Scheme / International Admissions Scheme. Applicants are required to satisfy the University Entrance Requirements for Non-JUPAS students. Preference will be given to candidates who list BASc(FinTech) programme as their first choice. Shortlisted candidates will be invited for interviews between December and May.